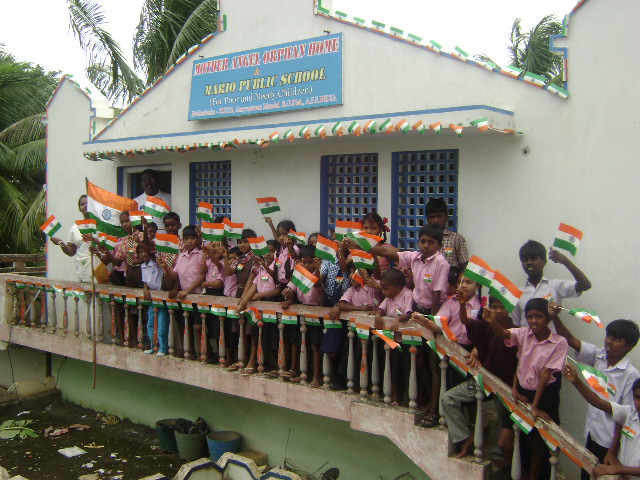 In a small rural fishing village on the Godavari river in the State of Andhra Pradesh, in Bobbarlanka, India is our small family ran orphanage. I, Pastor P. John Victor had a strong call on my life, I have been the assistant Pastor at my father's church, Christ Evangelical Church. While I enjoyed Assisting my late father at the church, I had a hunger in my heart for more. I had a vision

and in the vision I saw the scripture "James 1:27 pure and undefiled religion before God and the Father is this: to visit orphans and widows in their trouble and to keep oneself unspotted from the world." Since then I have committed my life to helping the little ones in my village who have lost their parents and the widows who are all alone.
In January 2000, I (Pastor John) took the 7 children in the home and has started caring them without any help from anywhere but with only love, compassion and care and in the month of May, Hepshiba, my wife came into my life and by time of our marriage I already took 11 children and when we were married the children first came into Hepshiba life and since than the children became 40 and our world and we have been together showering all the possible love upon them and caring them even though we don't have any support but God's utmost love is showered upon the children and we thank God for this. We love these children the in an abundant way and we always thank God for such lovely children in our lives. Lord God has blessed us with three lovely daughters with whom now we have 43 children and all are equally loved and cared.
The orphanage is housed in the upstairs portion of

our home.

The home was given to us from our father, along with our church, in which I am currently the Senior Pastor. This house is such a blessing to us, as our original home had been destroyed in a flood in 2004. The children had stayed in the church until 2005 when God provided the finances to put an addition onto the home that they were given. Currently there is no kitchen, separate sleeping rooms or adequate bathrooms for the children. They eat, sleep and study in the same area.
Recently a donation was given by a church to provide windows and doors for the shelter and to put in an electrical source.

Everyone was so thankful for this donation, as the weather gets very cold and damp and the monkeys come in and make a mess of everything, bothering the children. The only financial support the orphanage receives is from two individual families in the US and some weekly rice donations from people in the village or their church.
For three months out of the year I do fishing, in order to make money for the children. Most of the villagers rely on fishing for their main income, however it is never enough. The village is a poor rural village with many families affected by loss of life due to floods, cyclones, fishing accidents and HIV. Which is also why there are so many lost and hurting children.

Many children are left alone to fend for themselves some turning to violence and crime, in order to survive.
The children at Mother Angel Orphanage are very blessed in that they are very loved and cared for. The children are raised in a Christian home where they are taught about Faith and the Love and provision of Christ. The children have a strong faith in the Lord and pray for all their needs. They are HAPPY and well balanced.
The children start their days bathing at the river and then prayer. After prayer
the older children (15 of them, grade 6 and up), walk three miles one way
on an as there is only
enough for less food. Currently the children are eating two Partial meals a day of
rice and curries. On special days and when there is extra money they have
chicken, eggs and vegetables as well. The children are very thankful and
content with whatever they have.
These children are a gift from the Lord. My wife Hepshiba and myself are working very hard to provide a safe and loving home, full of the Love and Faith in Christ. We have our own children Sarah Angel, Rosa Blessy and Dolores Evangeline. We always keep these little orphaned children first in every thing and they are a joy to our lives and we try and work hard our best to give all possible and needy things they need to bring greater joy in their lives and a big special pure smile on their lovely faces. Every little thing you do for the children, will bring greater joy in their lives.
Twenty two dollars a month will provide food for one child. We are looking for families to adopt/sponsor a child for a year or more. They are in need of everything from soap and toothbrushes to clothing, blankets, beds and especially food. With your sponsorship or donation you will receive information about each child and can communicate through email with us, regarding your donation or sponsored child. You will receive pictures of your sponsored child along with the blessings you pour out on these precious little ones. If you are not able to make a commitment for a year, any donations would be greatly appreciated.
Thank you for your prayers for our little ones….